A North Carolina tattoo artist, Ernesto Rodriguez, is being criticized for tattooing his dogs on their bellies.
Rodriguez says that the tattoos are for identification purposes. Indeed, many vets, breeders and rescuers do tattoo animals, either to be able to ID them, or to indicate that they've been spayed or neutered. But usually it's just a number or a line or something. Rodriguez's dogs' tattoos are far more elaborate, although no more attractive than other dog tattoos I've seen. I was hoping they'd be of, like, Scooby Doo. But they look more like Rorschach blotches.
[caption]Lady and the tramp stamp? [/caption]
North Carolina's Stokes County Health Department and Animal Control are investigating Rodriguez, as some are saying it was animal cruelty for him to tattoo his dog.[/caption] According to the CNN report, Rodriguez did the inking on the dogs while they were under anesthesia from having their ears cropped. I find this doubtful, as I've never heard of a vet handing over a still-anesthetized dog. And considering the way my Yorkiepoo yelps if I accidentally pet him too roughly, I can't imagine that a pit bull who is merely a little groggy would take too kindly to having needles poked in its belly. So, who knows how the guy did it. I just wish my eyes had been anesthetized before I had to look at the thing. Is it unethical to do this to a dog? I think it's an interesting question. I'd say, yes. It's just unnecessary. Rodriguez claimed it was done for identification purposes, but it seems ridiculous to cause a dog pain in this way when a collar and a $3 ID tag would do the same job. But is it really any worse than many of the other things that people do to their dogs for reasons that are purely based on human ideas of what looks good? Inbreeding to the point of physical deformity, for instance. Or tail docking and ear clipping —two practices which were deplored even by Hitler (he banned doing either one without anesthesia in Nazi Germany).
A cosmetic procedure that is probably more widely spread than decorative tattooing for identification purposes is decorative freeze branding. Wes Baker of Freeze-Brands.com, which specializes in cattle branding tools, told me that over the last decade he's increasingly gotten request for small brands suitable for dogs. He makes several hundred a year. He mostly gets request to make brands that are numbers or letters, but he's also done musical notes, hearts and skull-and-cross bones. According to Baker, freeze branding doesn't hurt. "Unlike the cattle brands we make, the brands for dogs are for pets, and no one raises a dog for twelve months and then slaughters and eats it. it's a different thing," he said. "That's why I think people wouldn't want to use a hot brand. You train a dog and you work with it and it trusts you. You cant walk up to it with a hot iron. They wouldn't trust you after that. So, that's why we suggest freeze branding." Here is a dog with a freeze-branded bum.
Freeze branding is done using dry ice. The brand is held to the skin for anywhere between twenty seconds and minute, depending on the thickness of the hair and skin. According to one devotee, it might be more painful than Baker lets on.
You'll need at least two people, and three is even better. One person must brand, while the other two hold the dog. Sometimes you need one guy to hold the front end of the dog while the second person holds the dog's back legs tight. Just depends on the dog. When we branded my dog, she curled up in my lap and acted like she was getting a relaxing massage. [Another] dog thrashed around like a Marlin out of water and peed all over my leg. I don't think the branding hurt so much as she thought she was getting beat up by three people, and I'm here to tell ya, she wasn't going down without a fight LOL!!!
He adds:
You animal huggers can already quit your whining about how much it must hurt, and that's why they struggle when they are being branded, and all of that whiny baby garbage. If you were going to PM me about what an a$$ I am to do that to a dog, and it ought to be done to me, save it. I'm telling you from experience that it don't hurt. I wear the same iron as my dogs - I belong to them as much as they belong to me. They'd give their life for me; to return the favor is the least I could do.
Looking for a way to express yourself on your dog's skin without someone PM-ing you calling you an a$$? Two British groomers are heralding a new trend: Pooch Patches, which are little designs shaved into dog hair.
There is also a product called Petattoos, made by Pet Science Labs, which makes tattoos for dogs. They are basically just stencils that can be applied with non-toxic paint and a sponge.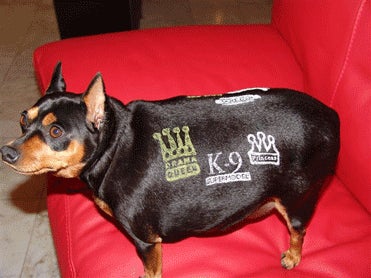 Of course, you could just leave your dog alone and tattoo yourself. Preferably, with a picture of your dog. Now that's a trend a pup could get behind.